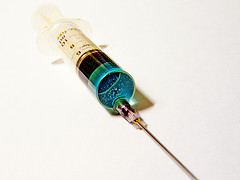 Take a failing economy, couple it with the meteoric rise in the popularity of cosmetic plastic surgery, and what do you get? A story as disturbing as it is sad.
A New Jersey woman has been charged with reckless manslaughter after an injection of silicone she administered to a man's penis killed him. They were at a "pumping party," gatherings where mostly transgender individuals inject silicone into each others bodies to create curves, breasts, hips, and all manner of body modifications. People often prefer these parties to a medical facility because they are much cheaper.
The victim's name was Justin Street, and he was 22 years old at the time of his death.
These stories highlight the widespread abuse of injectable cosmetic materials, such as Botox. Because of their popularity, they have become more attainable and are readily available on the black market. Stories about Botox parties, which are usually hosted by a medical professional, have lead people to feel comfortable with injections outside of medical facilities.
However, Kastia Riviera, 34, who is accused of injecting the fatal dose, was only posing as an accredited cosmetic plastic surgeon. Her misuse of the drug, investigators believe, caused the silicone embolism that killed Street the following day. While serious medical complications from silicone injections are rare, even when performed by amateurs, sometimes what is being injected is often not safe. Undesirable materials such as industrial silicone, castrol oil, and other toxic jellies have been sold as cosmetic silicone and caused significant complications for their recipients.
If you're interested in having a non-invasive injectable procedure done, it's not only imperative that you see a medical professional: it's also necessary that you see a board-certified plastic surgeon.
Did you enjoy this post? Why not leave a comment below and continue the conversation, or subscribe to my feed and get articles like this delivered automatically to your feed reader.